International Journal of Renewable Energy & Biofuels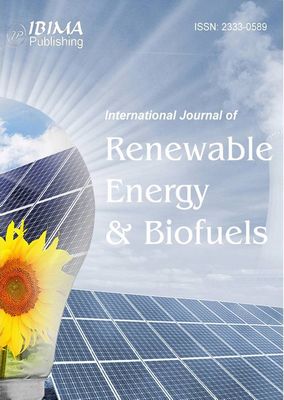 ISSN : 2333-0589
Description
International Journal of Renewable Energy and Biofuels (IJREB) is a peer-reviewed, open access journal that publishes original research articles, review articles, and case reports in all areas of Renewable Energy and Biofuels.
Table of content
Editorial Board
Review Process
Author Guidelines
Manuscript Publication Charges
Indexing and Abstracting
Kalyan Annamalai, Texas A and M University, USA 
Akwasi A. Boateng, United States Department of Agriculture, USA
Enrique Romero-Cadaval, University of Extremadura, Spain
Jo-Shu Chang, National Cheng Kung University, Taiwan 
Ajaỳ K. Dalaï, University of Saskatchewan, Canada 
Masjuki Bin Haji Hassan, University of Malaya, Malaysia
Teuku M. I. Mahlia, University of Malaya, Malaysia, 
Ashok Pandey, National Institute of Interdisciplinary Science and Technology, India 
Elio Santacesaria, University of Naples Federico II, Italy
Pedro Faria, Engineering Institute — Polytechnic of Porto, Portugal
Evangelos G. Giakoumis, National Technical University of Athens, Greece
Ebru Kavak Akpinar, Fırat University, Turkey
Nejib Guizani, Sultan Qaboos University, Oman
Md. Abul Kalam, University of Malaya, Malaysia
Guangsuo Yu, East China University of Science and Technology, China
Ramón Moreno Tost, University of Málaga, Spain
Elif Senturk, Gebze Yuksek Teknoloji Enstitusu, Turkey
Mingjie Jin, Michigan State University, USA
Dong Jiang, Institute of Geographical Sciences and Natural Resources Research, Chinese Academy of Sciences, China
Karthik Rajendran, University of Borås, Sweden 
Manuscripts will be evaluated for originality, significance, clarity, and contribution. Submitted manuscript must not have been previously published or currently submitted for publication elsewhere.
All submissions will go through centralized database for classification and internal administration purposes. Once classified, papers will be directed to the appropriate Editor. All submissions are read by at least one of the Editors. Every effort is made to judge the merits of manuscripts. Editor will refer the manuscript to 2-3 external reviewers in a full double-blind peer review process and will send a summary of review back to the author(s).
Editors have full authority to make one of the following decisions:
– Publish without modification
– Accept with revision
– Accept with major revision
– Reject
Please note: An invitation to accept with major revision does not imply a promise of subsequent publication, however, it is an indication of a positive reaction from reviewers and there is a possibility of publication. Editors may take note of comments and advice made by reviewers that are not intended to be shared with authors. For all accept with revision, only editor in chief will review the revised manuscript before giving the final accept/reject decision. 
International Journal of Renewable Energy and Biofuels is an open access Journal. Open access journals are those that provide immediate and free access of all published full-text articles to interested readers around the world. Open access provide readers with the ability to view, save, print, copy, distribute, transmit, and adapt any published article without fee-based subscriptions.
Open access publishing (OAP) can provide several benefits to participating authors. It helps in maximizing the dissemination and impact of research by making it available to all readers worldwide. Further, recently published literature suggest that OAP increases the chance of more citations of the published work, which in turn can be translated into more recognition of research. More importantly, OAP promotes and encourages cumulative research and knowledge building worldwide by providing easy, enhanced, and accelerated access to research.
Publishing an article in International Journal of Renewable Energy and Biofuels requires payment of the manuscript processing charges once the manuscript accepted for publication. The payment is to be made by one of the authors, their university/organization, or funding entity. The manuscript processing charges are designed to allow publishers to recover manuscript processing expenses and the cost of making the full-text available on the Internet to all interested researchers. 
Manuscript Charges:
| | |
| --- | --- |
| Manuscript Type | Charges |
| Research Article, Case Study, or Review Article  | US $195 |
Copyright 
Authors who publish in any IBIMA Publishing open access journal retain the copyright of their work under a Creative Commons Attribution 3.0 Unported License, which allows the unrestricted use, distribution, and reproduction of an article in any medium, provided that the original work is properly cited. No permission is required from the authors or the publishers.
The International Journal of Renewable Energy and Biofuels is indexed and/or abstracted in the following databases/resources:
MediaFinder

Airiti Library

CNKI Scholar

J-Gate

ScienceMedia

AgrosBiotech

WorldCat