Journal of Virology and Microbiology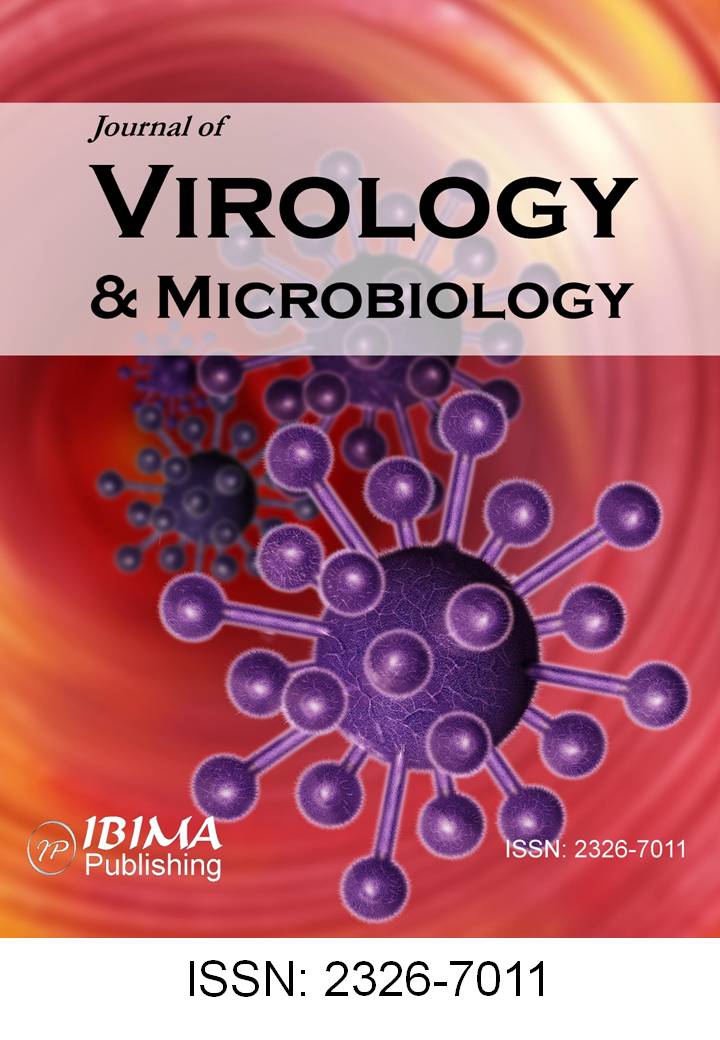 ISSN : 2326-7011
Description
Journal of Virology and Microbiology is a peer-reviewed, open access journal that publishes original research articles, review articles, and case studies in all areas of Virology and Microbiology.
Table of content
Editorial Board
Review Process
Author Guidelines
Manuscript Publication Charges
Indexing and Abstracting
Alessio Aghemo, Fondazione IRCCS Ca' Granda Ospedale Maggiore Policlinico, Università  degli Studi di Milano, Italy
Hossam M. Ashour, Developmental Therapeutics Program, Karmanos Cancer Institute (KCI), Eugene Applebaum College of Pharmacy & Health Sciences,Wayne State University, USA
Bonaventura Clotet, Chief of the Internal Medicine HIV Unit at the University Hospital Germans Trias i Pujol, IrsiCaixa AIDS Research Institute, Spain
Parin Chaivisuthangkura, Srinkharinwirot University, Thailand
Felisbina Queiroga Cordeiro, Centro de Pesquisas Aggeu Magalhães / Oswaldo Cruz Foundation (FIOCRUZ), Brazil
Ruben O. Donis, Chief, Molecular Virology and Vaccines Branch, Influenza Division (CDC), USA
Takanobu Kato, Chief, Laboratory of Tumor Viruses, Department of Virology II
National Institute of Infectious Diseases, Japan
Belinda R. Yen-Lieberman, Director of Clinical Virology, Serology, and Cellular Immunology at Cleveland Clinic, USA
Albert D. M. E. Osterhaus, Head Department of Virology, Erasmus Medical Center, Netherlands
Mohammad Rahbar, Iranian Reference Health Laboratory, Iran
Lei Yan, College of Life Science and Technology, Heilongjiang Bayi Agricultural University (HLBU), China
Margarita Camorlinga-Ponce, Instituto Mexicano del Seguro Social, Mexico
Mai Nguyet Thu Huyen, Phạm Ngọc Thạch hospital, Vietnam
Manuscripts will be evaluated for originality, significance, clarity, and contribution. Submitted manuscript must not have been previously published or currently submitted for publication elsewhere.
All submissions will go through centralized database for classification and internal administration purposes. Once classified, papers will be directed to the appropriate Editor. All submissions are read by at least one of the Editors. Every effort is made to judge the merits of manuscripts. Editor will refer the manuscript to 2-3 external reviewers in a full double-blind peer review process and will send a summary of review back to the author(s).
Editors have full authority to make one of the following decisions:
– Publish without modification
– Accept with revision
– Accept with major revision
– Reject
Please note: An invitation to accept with major revision does not imply a promise of subsequent publication, however, it is an indication of a positive reaction from reviewers and there is a possibility of publication. Editors may take note of comments and advice made by reviewers that are not intended to be shared with authors. For all accept with revision, only editor in chief will review the revised manuscript before giving the final accept/reject decision.
Important Disclaimer
Neither this Journal nor IBIMA Publishing accepts any liability whatsoever for the consequences of any such inaccurate, misleading data, opinions, or statements. Although every effort is made by the journal and the editorial board of this open access journal to see that no inaccurate, misleading data, opinions, or statements appear in the published article. It has to be clear that the data, opinions, and statements appearing in the articles are the sole responsibility of the author(s).
Journal of Virology and Microbiology (JVM) is an open access Journal. Open access journals are those that provide immediate and free access of all published full-text articles to interested readers around the world. Open access provide readers with the ability to view, save, print, copy, distribute, transmit, and adapt any published article without fee-based subscriptions.
Open access publishing (OAP) can provide several benefits to participating authors. It helps in maximizing the dissemination and impact of research by making it available to all readers worldwide. Further, recently published literature suggest that OAP increases the chance of more citations of the published work, which in turn can be translated into more recognition of research. More importantly, OAP promotes and encourages cumulative research and knowledge building worldwide by providing easy, enhanced, and accelerated access to research.

Publishing an article in JVM requires payment of the manuscript processing charges once the manuscript accepted for publication. The payment is to be made by one of the authors, their university/organization, or funding entity. The manuscript processing charges are designed to allow publishers to recover manuscript processing expenses and the cost of making the full-text available on the Internet to all interested researchers.
Manuscript Charges:

Manuscript Type

Charges

Research Article

, Clinical Study,

or Review Article

US $

195

117 (40% off for limited time)

Copyright
Authors who publish in any IBIMA Publishing open access journal retain the copyright of their work under a Creative Commons Attribution 3.0 Unported License, which allows the unrestricted use, distribution, and reproduction of an article in any medium, provided that the original work is properly cited. No permission is required from the authors or the publishers.
The Journal is indexed and/or abstracted in the following databases/resources:
Ulrich's Periodicals Directory

Media Finder

JournalSeek

Airiti Library

CNKI Scholar

Chemical Abstracts Service

J-Gate

WorldCat