JMED Research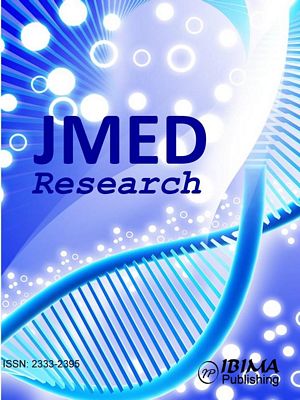 ISSN : 2333-2395
Description
JMED Research is a peer-reviewed, open access journal that publishes original research articles, review articles, case reports, and clinical studies in all areas of research in the field of Medicine.
Table of content
Editorial Board
Review Process
Author Guidelines
Manuscript Publication Charges
Walter Fröscher, Ulm University, Germany
Gavino Faá, University of Cagliari, Italy
Josep María Grau, University of Barcelona, Spain
Pedro Braga-Neto, Universidade Estadual do Ceará, Brazil
Jingyuan Song, Chinese Academy of Medical Sciences & Peking Union Medical College, (IMPLAD), China
Harsh Mohan, Government Medical College & Hospital Chandigarh, India
Anette Sundfor Jacobsen, YLL School of Medicine + Duke NUS, Singapore
Batool Sharifi – Mood, Zahedan University Medical Sciences, Iran
Papa Dasari, Jawaharlal Institute of Postgraduate Medical Education and Research, India
Ahmad Sukari Halim, Universiti Sains Malaysia, Malaysia
KengLiang Wu, Chang Gung University, Taiwan
Jorge L. Alió, Vissum Instituto Oftalmologico de Alicante, Spain
Nozomu Matsumoto, Kyushu University, Japan
Kyoung Ho Park, Catholic University of Korea, Korea
Danko Bakarčić, University of Rijeka, Croatia
Zouhaïr Tabka, University of Sousse, Tunisia
Joaquin Garcia-Estrada, Instituto Mexicano del Seguro Social, México
Francesc J. Moreso, Autonomous University of Barcelona, Spain
Kai Ming Chow, Chinese University of Hong Kong, Hong Kong
Nilo Zanatta, Universidade Federal de Santa Maria, Brazil
Christian Tomaszewski, University of California, San Diego, USA
Seçil Soylu, Private Akay Hospital, Turkey
Elizabeth Comino, University of New South Wales, Australia
Kamer Gunduz, Celal Bayar University, Turkey
Apostolos Epivatianos, Aristotle University of Thessaloniki, Greece
Jaap M. Middeldorp, VU University Medical Center, Netherlands
Ozra Tabatabaei-Malazy, Tehran University of Medical Sciences, Iran
Yoshiyuki Tohno, Chiang Mai University, Thailand
Emer McGrath, National University of Ireland, Galway, Ireland
Yun Fu Zhao, Second Military Medical University, China
Serdar Toker, Selçuk University, Turkey
Markku Alen, University of Jyväskylä, Finland
Tamas Bender, Budai Irgalmasrendi Kórház, Hungary
Walentyna Balwierz, Jagiellonian University Medical College, Poland
Annette H Nettie Blankenstein, VU University Medical Center, Netherlands
Joydip Mukherjee, West Bengal University of Animal and Fishery Sciences, India
Levent Dalar, Istanbul Bilim University, Turkey
Teresa Stachowicz-Stencel, Medical University of Gdansk, Poland
Stephan Klessinger, Ulm University, Germany
Laura M Struble, University of Michigan, School of Nurinsg, USA
Ashok Kumar, Sanjay Gandhi Post Graduate Institute of Medical Sciences, India
Emeria A. Mugonzibwa, Muhimbili University of Health and Health Sciences, Tanzania
Nelson H Tsuno, University of Tokyo, Japan
Mohammad Y Hajeer, University of Damascus, Syria
Joakim Crona, Uppsala Universit, Sweden
Pascal Pineau, Institut Pasteur, France
Denis Cerimagic, University of Dubrovnik, Croatia
Arijana Lovrencic-Huzjan, University of Zagreb, Croatia
José Milei, Universidad de Buenos Aires, Argentina
Narcis Hudorović, University of Dubrovnik, Croatia
Nasuh Utku Dogan, Istanbul University, Turkey
Manuscripts will be evaluated for originality, significance, clarity, and contribution. Submitted manuscript must not have been previously published or currently submitted for publication elsewhere.
All submissions will go through centralized database for classification and internal administration purposes. Once classified, papers will be directed to the appropriate Editor. All submissions are read by at least one of the Editors. Every effort is made to judge the merits of manuscripts. Editor will refer the manuscript to 2-3 external reviewers in a full double-blind peer review process and will send a summary of review back to the author(s).
Editors have full authority to make one of the following decisions:
– Publish without modification
– Accept with revision
– Accept with major revision
– Reject
Please note: An invitation to accept with major revision does not imply a promise of subsequent publication, however, it is an indication of a positive reaction from reviewers and there is a possibility of publication. Editors may take note of comments and advice made by reviewers that are not intended to be shared with authors. For all accept with revision, only editor in chief will review the revised manuscript before giving the final accept/reject decision.
Important Disclaimer
Neither this Journal nor IBIMA Publishing accepts any liability whatsoever for the consequences of any such inaccurate, misleading data, opinions, or statements. Although every effort is made by the journal and the editorial board of this open access journal to see that no inaccurate, misleading data, opinions, or statements appear in the published article. It has to be clear that the data, opinions, and statements appearing in the articles are the sole responsibility of the author(s).
JMED Research is an open access Journal. Open access journals are those that provide immediate and free access of all published full-text articles to interested readers around the world. Open access provide readers with the ability to view, save, print, copy, distribute, transmit, and adapt any published article without fee-based subscriptions.
Open access publishing (OAP) can provide several benefits to participating authors. It helps in maximizing the dissemination and impact of research by making it available to all readers worldwide. Further, recently published literature suggest that OAP increases the chance of more citations of the published work, which in turn can be translated into more recognition of research. More importantly, OAP promotes and encourages cumulative research and knowledge building worldwide by providing easy, enhanced, and accelerated access to research.

Publishing an article in JMED Research requires payment of the manuscript processing charges once the manuscript accepted for publication. The payment is to be made by one of the authors, their university/organization, or funding entity. The manuscript processing charges are designed to allow publishers to recover manuscript processing expenses and the cost of making the full-text available on the Internet to all interested researchers.
Manuscript Charges:

Manuscript Type

Charges

Research Article

, Clinical Study,

or Review Article

US $

195

136 (30% off for limited time)

Copyright
Authors who publish in any IBIMA Publishing open access journal retain the copyright of their work under a Creative Commons Attribution 3.0 Unported License, which allows the unrestricted use, distribution, and reproduction of an article in any medium, provided that the original work is properly cited. No permission is required from the authors or the publishers.